From A&M to Pucillo's, Mancino's, Mannino's to Bartolo's, Soprano's and Trattoria Fratelli, it seems like Italian food is everywhere today in Central Pennsylvania. But that was not always the case.
It was not until the middle of the 20th century that Italian cuisine was introduced to Lebanon County, but when it was, it caught on fast.
During the 19th century, most restaurant food in the United States was Germanic, and this was no different in Lebanon County.
Critics openly deprecated Italian cuisine across the United States, claiming that it was either too garlicky or too spicy; in some cases, they also linked eating Italian food with excessive alcohol consumption in an effort to persuade the general public against it.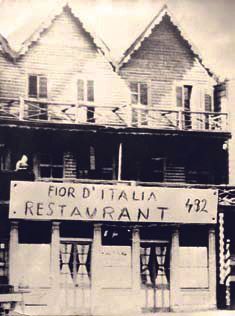 Others condemned Italian and even French establishments as unconventional and distinctly un-American. But the vast majority associated Italian food with poverty, and this happened to be the worst criticism of all. It turned many away from Italian cuisine, and it would take centuries since the first Italians arrived in the Americas for their food to be widely appreciated.
Around the beginning of the 20th century, Italian restaurants were primarily restricted to larger cities, where they had a greater chance of being successful. They were referred to as foreign (now, ethnic) establishments, and they were controversial, with many critics continuing to express their disapproval.
The first Italian restaurant in the United States was Fior d'Italia, which opened in 1886 in San Francisco, where it remains to this day. However, Fior d'Italia was rather isolated, and many of the other first Italian restaurants originated on the East Coast: Dante & Luigi's Corona di Ferro and Ralph's Italian Restaurant opened in Philadelphia in 1899 and 1900, respectively; in New York, Barbetta opened in 1906; and Jeveli's opened in Boston in 1924.
It would take a little longer for Italian cuisine to start trickling in from New York and Philadelphia and picking up in Central Pennsylvania. It was not until the late 40s that restaurants in Lebanon County began serving pizza and other traditional Italian food. One of the most prominent of these establishments was The Green Terrace in Annville.
The Green Terrace first opened in 1933, and for many years, it was owned by Chris Thomas, until in 1942, he sold his interests in the business to launch a new modern restaurant and bar in Lebanon. In the years that followed, The Green Terrace went through several owners. In 1946, it was destroyed by a fire, and after that, it was purchased by local restaurateur and World War II Veteran Joseph Pavone.
But two years later, in 1948, The Green Terrace fell into the hands of first-generation Italian American Frank DiNunzio. He would spend the next two decades as part-owner of the restaurant with his wife Evelyn, and Italian food would never again be the same in Lebanon County.
DiNunzio was born in 1913 in Ambler, Pennsylvania, to parents Nicola and Francesca, although he spent much of his childhood in Lebanon — the family moved there around 1916. During this time, DiNunzio's father worked as a bookkeeper, a cobbler and a musician, and he became well-known and respected in the community.
Before he began his career as a restaurateur, Frank DiNunzio would follow in his father's footsteps; in the 1930s, he worked at the family shoe repair shop in Annville, and for most of his life, he was a musician. He played for many bands throughout his career, but perhaps most notably with Reg Kehoe and his Marimba Queens and the Perry Como Band.
In the 1940s, DiNunzio moved the shoe repair shop to South Railroad Street in Palmyra. At around the same time, he opened his first restaurant on North Railroad Street. It was simply called DiNunzio's.
So, when he decided to reopen The Green Terrace on Aug. 10, 1948, Frank DiNunzio already had several years of practical business experience. He kept items on the menu that were considered traditionally American, but he also added Italian dishes. Alongside Virginia baked ham and Lebanon County roast pork, he was serving pizza, spaghetti, ravioli and veal scallopini.
DiNunzio's success at The Green Terrace preceded that of several new Italian restaurants in Lebanon County. The Cocco Spaghetti House, operated by Italian immigrant Ludovico Cocco, opened Aug. 25, 1951, proudly advertising itself as "Lebanon's only spaghetti house," with "30 years of experience with Keystone Macaroni." By then, the Lebanon-based company Keystone Macaroni would have been renamed San Giorgio and have achieved national recognition for its pasta (see our story on San Giorgio here).
In Mount Gretna, Ferretti's Grill at the Kauffman Hotel began serving pizza and spaghetti as early as 1951. In that same year, Sorrento Restaurant opened in Cleona, where pizza and spaghetti were served. Supermarkets like Zweier's and Weaver's began selling different kinds of pizzas and sauces around this time as well. In less than a decade, Italian food was almost everywhere in Lebanon County.
Around this time, the expansion of Italian food was also happening in other parts of Central Pennsylvania. In 1947, one year before DiNunzio opened The Green Terrace, DeAngelis Grill (now, Fenicci's) became the first restaurant in Hershey to serve pizza. And, by 1953, the Indian Echo Hotel also had pizza on the menu.
But of all these other restaurants, The Green Terrace remained one of the liveliest for a long time. That was due in large part to DiNunzio's background as a musician. He organized live music for his restaurant on the weekends, and oftentimes, he played there himself with his own bands. By 1960, he had formed the Frankie DiNunzio Orchestra and was making use of the ample space at The Green Terrace to host large banquets and dances.
After he left The Green Terrace in 1968, he opened DiNunzio's Restaurant in Hershey. There, he also provided live music. By that time, his son Frank Jr. (better known as Frankie Dee) was pursuing a music career as well, and he occasionally performed at the restaurant.
In 1979, DiNunzio sold his Hershey establishment to American College Food Service Institute president Donald Yoder, who retired from Elizabethtown College to assume the position. He renamed it The Inn at Hershey and held their grand opening on June 22 of that year.
After an illustrious career in which he helped bring Italian food into Lebanon County, in 2005, Frank DiNunzio passed away at the age of 91. In the years since then, members of his family continue to have an impact within the community.
Dave DiNunzio, Frank's nephew, has kept the family trade of cobbling alive. Despite many shoe repair stores going out of business in Lebanon, his remains quite successful. Additionally, he sells subs in Lebanon at his own restaurant, DiNunzio's Authentic Italian Hoagie.
The history of Italian food in the United States might be a lot shorter than most people realize, but over the years, it has certainly become an integral part of American culture.
Questions about this story? Suggestions for a future LebTown article? Reach our newsroom using this contact form and we'll do our best to get back to you.
Do you want to see more from LebTown?
Support local news. Cancel anytime.
Already a member? Login here
Free news isn't cheap. If you value the journalism LebTown provides to the community, then help us make it sustainable by becoming a champion of local news. You can unlock additional coverage for the community by supporting our work with a one-time contribution, or joining as a monthly or annual member. You can cancel anytime.