Cumberland Street is known for its historic business district properties. But somewhat less recognizable (though no less interesting) are its distinct residential structures.
Aaron Shirk, President of Sonrise Tags & Tax and owner of 419 Cumberland Street, is determined to find out as much about the property as he can. Though he's only owned it for a few years, Shirk has already made some great discoveries while researching the house's history.
From the outside, 419 Cumberland Street appears a simple brick structure with three front-facing dormers, a wide porch, and an east-side addition with a chimney. The building in its current state has two functions. The lower floors primarily serve as offices of Sonrise, while the second floor is reserved as tenant housing.
Though there are some gaps in the building's long history, it has served primarily as a spacious residential home, and it counts some of Lebanon's finest among its past owners.
John Peter Shindel Gobin, a Lebanon resident who made a name for himself in the Civil War, is probably the best known of these residents. Gobin acted as a Major General during wartime and eventually became a commander in the 28th Division. In his post-war life, beginning in early 1866, he settled in Lebanon and resumed a dormant legal career. In 1884, he was elected state senator, a position he served in for a whopping 15 years. Several years later, in 1892 and 1893, he was made president pro tempore, and before the century was out he would become lieutenant governor.
Read More: Finding a Lebanon connection in an unexpected place: Key West's Fort Taylor
Shirk can only wonder why "a man of such standing from Lebanon is so unknown." Though Gobin's name is familiar to local history buffs, it hasn't quite seeped into the public consciousness quite yet. That hasn't stopped Shirk from amassing a small collection of Gobin-related memorabilia, including photographs, buttons, and even the property deed from Gobin's time (if you wish to test your cursive-reading abilities, Shirk has graciously shared part of the deed in PDF format).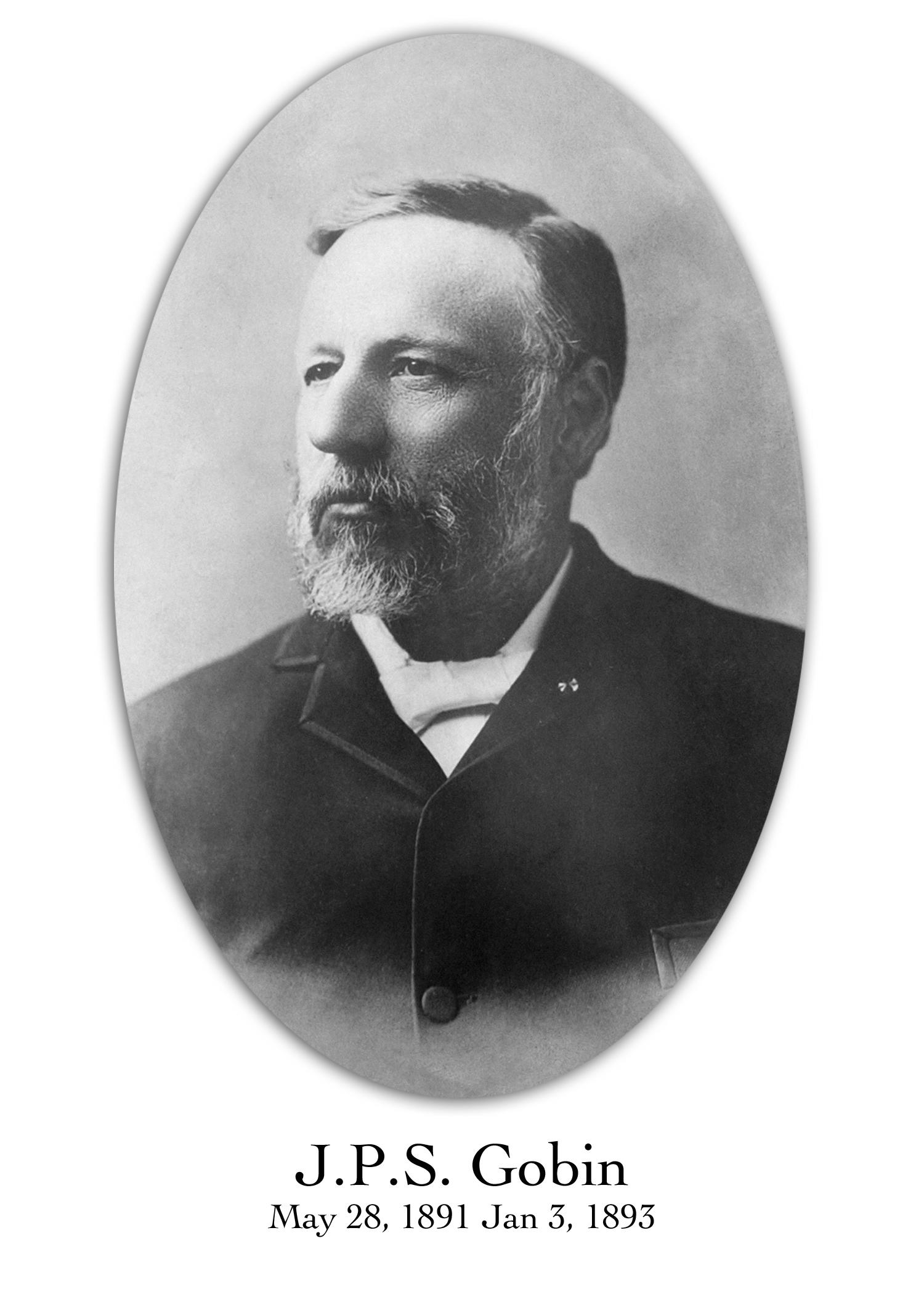 Read More: The true crime story that made Lebanon famous around the world: The Blue-Eyed Six, plotters of a murder 140 years ago
Gobin purchased the property in 1892 for the price of $9,500, according to records. Gobin spent the last two decades of his life in the house until he suffered a debilitating stroke in 1910, dying several months later. The property exchanged hands in the intervening years until it came into the possession of another well-known Lebanon figure in 1923: Dr. John Lick Groh.
Dr. Groh (or "Dr. John L" as patients called him) was known to several generations of Lebanon residents as the head of the Lebanon Valley General Hospital, then known as the Lebanon Sanatorium, an institution he took over in 1918 and built into one of the county's biggest medical operations. Groh both lived and worked at the house. His private medical practice operated at the address until 1963, when his physical health took a turn for the worse. Groh owned the property until his death in 1968.
Full disclosure: Groh is also my great-grandfather. Consulting family sources (read as: asking my dad), I was able to get a better idea of how the home was organized. From the streetside door, one entered into a large, darkened foyer, with a staircase to the left and the office, dining room, and kitchen directly receding further into the house. To the right was a sunroom with a television and chimney (now the Sonrise waiting room). The second floor contained the private quarters of the Grohs and Dr. Groh's personal library.
Patients to Dr. Groh's practice entered in through a door on the side of the house, where Dr. Groh would treat them.
Shirk believes the addition to have been constructed sometime under the Groh ownership. He's noted some other significant changes, as well: the addition of dormers, alterations to a garage-like structure in the back of the property, and a staircase in the foyer that seems to have been added in recent decades.
Read More: A salute to the Samler Building, Lebanon's downtown icon
The property's other residents include Reverend George Gleim, who lived there until his 1890 death as reported in the May 26 edition of the Daily News. An account of Rev. Gleim's life indicates that Lebanon's burgeoning Methodist congregation gathered at Gleim's house prior to the construction of the Methodist Episcopal church in 1840; however, it is unclear if this house is the same property.
Another family medical practice operated in the building beginning in 1990s Drs. Suzanne Worrilow and Joseph Bering began a practice at the address in 1974, though it eventually became known as Worrilow's alone.
Shirk is still uncovering things about the property in his spare time, and he welcomes anybody who might be able to shed more light on the property and the life of Gobin. Both he and I are privileged to have been made aware of this interesting piece of local history, and I am personally grateful for the chance to peek inside a part of my own family history.
Do you have something to add to the story? Or is there another piece of Lebanon County history you think we should tell next? Reach our newsroom using the form below.
Do you enjoy Lebanon County history?
So do we. Our stories are free to read thanks to the support of our members and advertisers. Help us tell more stories of Lebanon County's past by joining LebTown as a member.

Join LebTown as an annual member and you'll reserve a limited-edition LebTown coffee mug of your own, plus all the usual benefits!

Learn more and join now here.
Read more profiles of significant Lebanon County buildings…